Military Initiatives
The College of Education has a long, proud history of serving military personnel and their families. Our formal commitment – to develop collaborative partnerships with military-related entities – comes within the context of our Vision 2025 and affirms the direction we chose decades ago: to work together.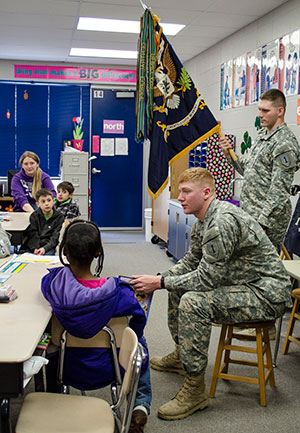 Eight percent of the college's student body is affiliated with the military, and many alumni are impressive military leaders thanks to the adult education program for officers at Fort Leavenworth. A majority of Command and General Staff College permanent faculty holds doctoral degrees in adult education from K-State.
As part of our Professional Development Schools Partnerships (student teaching), many of our pre-service teachers are placed in military schools located on Fort Riley while the vast majority are placed in neighboring schools districts with high concentrations of military-connected students like Manhattan and Junction City. Our pre-service teachers simply must be prepared for the special needs of military children – and they are.
Always looking for opportunities to grow and share, the College recently joined two critically important national efforts, Operation Educate the Educators and the Military Child Education Coalition. Both of these organizations provide the College's pre-service teachers the opportunity to strengthen key skills, build relationships and be classroom ready upon graduation. For more information, see Operation Educate the Educators in collaboration with the American Association of Colleges for Teacher Education (AACTE).
Veterans in college disclose challenges in adjusting to the college culture that differs greatly from the highly structured military culture. Student veterans report the importance of connecting with other veterans, wanting more sensitivity among faculty to veterans issues, and navigating resources and other supports to get a college degree. In addition, families of activity military personnel and veterans expect understanding and accommodations from teachers, principals, and school superintendents. The needs and strengths of military personnel and veterans and their families can be addressed by the faculty of the College of Education, who educate teachers, principals, superintendents, adult educators, school counselors, special educators, and postsecondary advising and student personnel services staff.
In many ways, our relationship with military personnel and their families is turning a new and dynamic page. We have and always will continue to find new ways to serve the people who serve our country.
→ See the 2013 Military and Veteran's Educational Initiative Report
---
Military ED-OPs Brochure
Download a copy or view online by clicking below ↓
---
Ongoing Activities
The College, as a whole, and several units within the College are currently undertaking a variety of activities related to military/veteran students, families, P-12 students of military families, and the educational professionals who work with K-20 students and families. These activities include:
The Military and Veterans Educational Initiative is a college-wide activity funded by KSU's Academic Excellence funds. The purpose it to develop a plan for profession development and course/pedagogical changes in all college programs to address military/veterans issues, and to prepare a related college-wide research agenda. The steering committee for this initiative is made up of faculty, graduate students, staff and several military-involved individuals in education settings other than KSU. The initiative is being spearheaded out of the Dean's office and Associate Dean Thurston and Dr. Judy Hughey are co-chairing the committee.
A faculty book study using "The Teacher's Guide for Supporting Students from Military Families" is continuing and all clinical instructors in our K-12 teacher preparation programs are reading and discussing the book.
Several faculty have submitted several proposals for external funding related to post 9/11 veterans, with a focus on those with disabilities (counseling, advising and special education).
Sandy Risberg, an instructor in Curriculum and Instruction, is coordinating an "Educate the Educators" program to help faculty understand military-connected students. An example activity is a recent trip of COE faculty and staff to visit Ft. Riley schools (see photos below).
Graduate students, many of them from military families, are conducting their dissertation research in topics related to military issues. An example is Dr. Vicki Sherbert's "Well, besides the fact that deployment kinda stinks….": adolescent voices in literacy during military deployment.
See our Military Initiatives Photo Gallery page for photos of some of these activities