Diversity Initiatives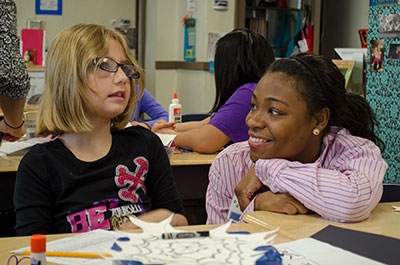 The College of Education's longstanding commitment to diversity can be seen throughout the collective work of its departments, centers, and programs since the early 1990s. With the leadership and support of Dean Debbie Mercer, the College of Education has built upon this legacy with new innovative programs and augmentations to existing programs that enhance diversity—within the college, the university, the state, and the region. Guiding these initiatives is the new vision statement for the college, implemented this year: "Preparing educators to be knowledgeable, ethical, caring decision makers, in a diverse and changing world." While there are numerous noteworthy programs and initiatives going on in the college, this is a brief description of key efforts:
Professional Development Opportunities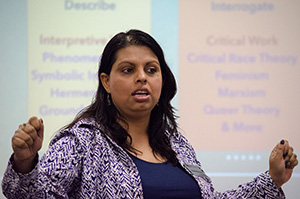 The COE has a history of providing professional development opportunities (in the form of summer institutes, book studies, guest lectures, and workshops) for faculty, staff, graduate teaching assistants, and students. Previously, the college's Diversity for Community Committee has offered a series of college-wide Diversity Brown Bag sessions on various topics such as: addressing diversity in schools, working with LGBT parents, and utilizing community resources. These brown bag sessions focus on topics identified in the college's program data as key areas of need in preparing our students for a diverse and global society. The Diversity Coordinator began a Book Study Series in Fall 2012 that ran through the Spring semester. Book titles included Supporting Military Connected Students and Families and Generation on a Tightrope. Participants in the Generation on a Tightrope study discussed how different the needs and experiences of today's students are from the undergraduates who came before them. They consider how ill-equipped most colleges and universities are for 21st century realities and the major changes that universities will need to undergo in order to adequately prepare this increasingly diverse student population. In both studies participants examine student expectations, aspirations, academics, attitudes, values, beliefs, social lives, and politics. Participants gain useful information, concrete strategies, and various resources. Follow up discussions with faculty and staff, related to implementation of lessons learned, are a critical part of these book studies. Another type of college-wide professional development provided by the Diversity Coordinator is the Diversity Highlights: Thoughts for the Week. These are weekly emails sent to all faculty, staff, graduate students and College of Education affiliates – sharing research and teaching articles, websites, and relevant campus and community events that pertain to diversity.
---
Recruitment and Retention of Diverse Students and Faculty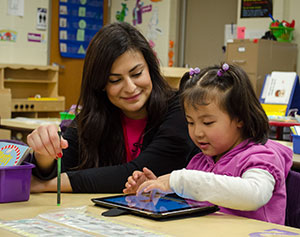 The college's current initiatives to recruit and retain diverse graduate students and faculty can be seen in the increased number of international students seeking admission in the college and the number of culturally and linguistically diverse faculty hired in the college. The college has produced two documentary video projects with an international education emphasis and shared them campus-wide. The first one, A Walk in My Shoes, led by Dr. Kay Ann Taylor, was a collaborative project that shared the educational and cultural experiences of six international graduate students in the college. The second one, called Humanity Looks Good on Everyone, documented an ongoing humanitarian project, coordinated by Dr. Marilyn Kaff, that annually takes College of Education students abroad to work with children and communities in Tanzania.
The Go Teacher Program, which began during the summer of 2012, was an international partnership between the KSU College of Education, Division of Continuing Education, English Language Program, the Ecuadorian Ministry of Education, and SENESCYT, the governing body of higher education in Ecuador. This program began by providing English language development and ESL/EFL coursework to teachers from Ecuador. To date this initiative has brought over 250 teachers from Ecuador to study at K-State.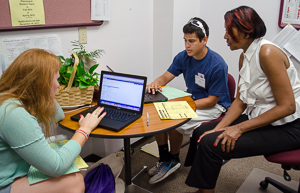 The college's continued commitment to the recruitment, retention and graduation of underrepresented undergraduate students can be seen in many new and existing programs. For example, the Center for Student Success and Professional Services, under the leadership of Dr. David Griffin, has begun targeted recruitment from community colleges in the state, many of which serve highly diverse populations. The Center for Intercultural and Multilingual Advocacy (CIMA) supported 87 bilingual/bicultural students to graduation and placement in ESL education through the BESITOS Program model, with an additional 15 students supported toward their graduation in a different degree program. Thirty-five students of those students went on to graduate school, and 21 have completed their graduate programs and are now serving as teacher leaders in the state. Through their High School Equivalency Program, CIMA has supported over 500 migrant students in obtaining GED's, and their CAMP-Migrant Education Program, to date, has served over 98 migrant students in post-secondary education, with 8 students having completed a post-secondary degree and over 80 still advancing toward postsecondary degrees. The Marilyn and Bill Taylor Study Abroad Program has provided over 140 study abroad experiences, and CIMA recently established a Study Abroad Student Organization.
---
Working with Developmentally Disabled Adults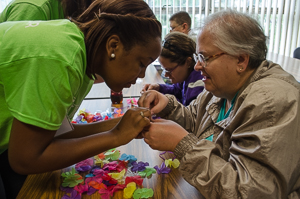 In partnership with the University for Man (UFM), K-State Salina, Big Lakes and Twin Valley Developmental Centers, and the Wamego, Geary County, and Manhattan/Ogden school districts, the college initiated Project EXCELL. The Project Extending College Education for Lifelong Learning program brings adults with mild development disabilities to the K-State campus for supplemental transition services. Classes are offered in two five-week sessions per semester. As of this spring semester, Project EXCELL has provided programming for over 80 participants as well as provided valuable volunteer experiences for over 100 College of Education students. Student volunteers have the opportunity to assist with classes and serving as peer models for participants.
---
Preparation of Teacher Candidates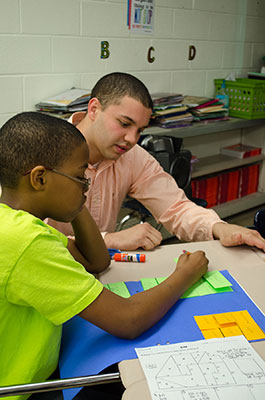 As an NCATE accredited program, the College of Education and its PDS partners are held to the highest level of standards in the preparation of teacher candidates. The Professional Development School Network (PDS) includes the College of Education, the College of Arts and Sciences, and hundreds of teachers and administrators from schools in eight diverse districts across Kansas. Partner districts represent inner city, small-town, and rural learning environments and include elementary, middle, and high schools. These PDS partners have been engaged in collaborative and simultaneous K-16 reform, including efforts to address social justice and educational equity, since 1989. Currently, the COE math education faculty, the Department of Mathematics, and CIMA have developed a proposal to the National Science Foundation (NSF) for the development of culturally responsive math instruction strategies, which include extensive professional development for Kansas's math teachers. The college also spearheaded a Louis Stokes Alliances for Minority Participation (LS-AMP) proposal to NSF. This pipeline grant will promote the recruitment, retention and graduation of underrepresented minorities in STEM. The strength of this proposal resides in the robust, longstanding partnerships the college has with three Hispanic Serving Institutions in southwestern Kansas (Dodge City CC, Garden City CC, and Seward County CC); as well as the new, dynamic partnership with Donnelly College, a highly diverse, urban, commuter college in Kansas City, KS.
---
Military Initiatives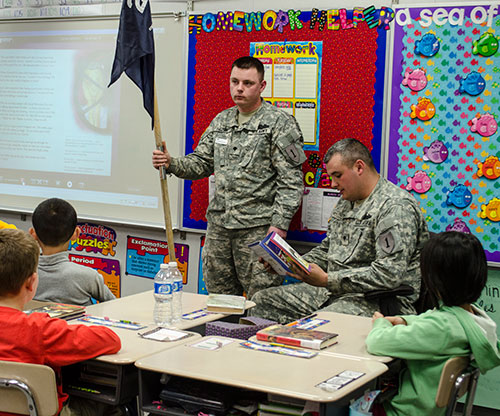 The college's Military/Veteran Educational Initiative began in 2012 to merge departmental and programmatic activities into a college-wide framework for preparing educators to serve military personnel, veterans and their families in educational settings. This initiative includes plans to (1) provide professional development for faculty and graduate students; (2) develop courses and/or pedagogical adaptations to address military/veteran/family issues; and (3) develop a research agenda to contribute to the knowledge base related to working with military personnel, veterans, and K-12 students and their families. This is a critical need as military students and families tend to be highly diverse, transient, and from lower SES backgrounds that historically create unique challenges in schools. The college is committed to preparing educators and administrators to understand and address these challenges effectively. For example, 3 of the 4 schools on Ft. Riley are involved in the PDS partnership. Therefore, College of Education pre-service students have the opportunity to participate in field practicums on post, gaining rich experiences working with military connected students.
---
Engagement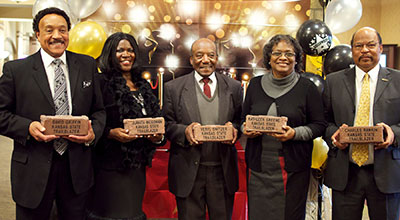 Dr. Tonnie Martinez and Dr. Albert Bimper received a Tilford Incentive Grant to produce a documentary, A Long Road, highlighting the experiences of five African American K-State icons. One desegregated a Kansas swimming pool, another integrated a neighborhood, and one began a football career as the first Black football player at Kansas State and ended it with the Green Bay Packers. Stories include Dr. Martin Luther King's visit to K-State, the impact of his assassination, and a motivational segment that encourages us all, "If it is to be, it is up to me!
---
Multicultural Mentorship and Guidance
In the past year, under the leadership of Dr. Kay Ann Taylor, the Multicultural Inquiry Group (MIG) was established. This research group consists of all faculty, instructors and graduate teaching assistants who teach courses that address diversity issues in the teacher education program. Dr. Taylor provides mentorship and guidance for the junior faculty and staff who make up this highly diverse group. Members include six women and one man. The male member is an international graduate teaching assistant from Malaysia; the females consist of one Latina, one African American and three white faculty members as well as two white graduate teaching assistants. The MIG provides support and feedback to its members as well as shares curricula, project ideas, and current web-based resources on diversity. The MIG also functions as a research collaborative. Just this academic year, the group began two research projects and submitted a conference proposal to the American Education Research Association. These are just a few of the College of Education programs that provide evidence of our longstanding commitment to diversity within the college, the university, the state, and the region.