K-State GPU 2018
Grandparents University
July 29-31, 2018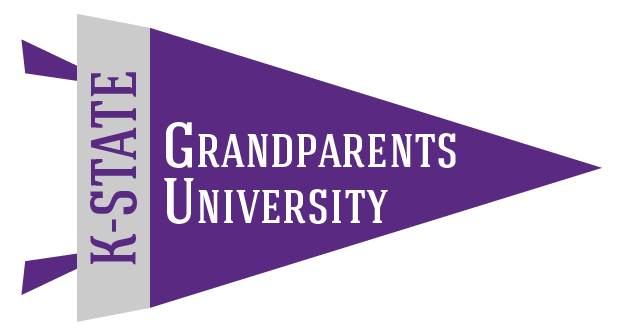 Frequently Asked Questions
Who can participate?
Q: Can one adult bring two children?
A: Each child must be accompanied by an adult at all times. One adult can bring two children, however, all three would stay together as a group. In some sessions, this group may be sharing equipment and working together as one unit.
Q: Must the adult be the child's grandparent?
A: While this program is designed for grandparents and grandchildren, we recognize that situations may arise where a grandparent is unable to attend and a child's parent or relative may accompany them in the program. The child's parent or legal guardian is required to sign permission forms prior to the event.
Q: What are the age requirements?
A: We recommend that children be between eight to twelve years old.
Q: What is the cost?
A: The cost per grandparent is $250. The cost per grandchild is $200.
Q: I am on a limited income. Are scholarships available?
A: We are sorry, not at this time. We would be interested in discussing scholarship opportunities with interested donors.
Q: How did you determine the rates for this event?
A: This program is self-funded so that it does not take away any necessary support from the college. Rates are set based on the actual costs of conducting this event, including food, lodging, learning activities, promotion and many other ancillary items.
Q: What is included with the registration fee?
A: Your registration fee includes two nights lodging, Sunday evening meal, three meals on Monday and Tuesday brunch - all on campus, admission to Grandparents University classes, admission to evening activities, an event t-shirt, and other event items. You may wish to bring money for vending machines (the cafeteria has limited hours) and souvenirs.
---
How can we get around campus?
Q: How much walking is involved?
A: We will be walking from the dorm to various locations around campus. Bring your walking shoes! If you need transportation accommodations, please let us know and handicapped parking is available close to most buildings.
Q: Can we bring bicycles?
A: Yes, and be sure to bring your bike locks and helmets.
Q: Where do we park?
A: Parking on campus can be difficult, so you should plan on parking your car for the entire length of the program. Parking permits are $10.00 per day and can be requested on the registration form.
---
Disability and Accessibility
Q: Where can we park if we have a handicap permit?
A: If you have a valid state-issued handicap parking permit, you will still need to obtain a parking pass in order to park on campus. A limited number of spaces are available near your residence hall. Please indicate your special needs on the registration form.
Q: What special accommodations can be made for me?
A: Haymaker Hall has a limited number of rooms for guests with special accessibility needs. Please be sure to indicate any special requests on your registration form. Several minivans will be used to assist with getting participants with accessibility issues to and from their classes. Please be sure to note your mobility issues when asked about any Special Needs during registration.

Logistics
Q: What time should we arrive? When can we move into the residence hall?
A: Specific details will be sent to all participants several weeks before the event and will include instructions and times for move-in, what to bring, and all the other details involving this experience. Until then, see the schedule for estimated times and activities.
Q: I want to stay in a hotel. Is there a discount if I don't stay in the residence halls?
A: No. The registration rate is all-inclusive and this program is designed to have participants engaged in the full campus experience which includes staying in a residence hall, eating meals in the cafeteria, attending various classes, etc. You are welcome to stay in a local hotel, however, you will still need to pay the full registration fee.
Q: Why is housing in Haymaker Hall and not a different residence hall?
A: Haymaker Hall was selected based on several important requirements, including availability, accessibility and semi-private bathrooms (one bathroom for every two rooms).
Q: Do I need to bring an air conditioner?
A: No. Haymaker Hall has central air. You might want to bring a fan and extension cord.
Q: Do the residence hall rooms have refrigerators?
A: No. The residence halls do have vending machines. If you have medicine or other health-related items that need to be refrigerated, please indicate this in the special needs section during registration or notify us in advance of arriving on campus. Special arrangements can easily be made if we receive advance notice.
Q: What do I need to bring?
A: A list of packing items is available below. This list is based on recommendations from past participants and should help you best prepare for the three-day experience. Specific details will be sent to all participants several weeks before the event.
Q: I have food allergies. What special precautions are being taken in the cafeteria?
A: KSU Housing and Dining Services operate the cafeteria and are experienced at dealing with food allergies. There will be several food options for every meal, so participants will have a choice of which foods they eat. The cafeteria staff is experienced at avoiding cooking products that are common with allergies. Cafeteria staff will be available at each meal to help you make the appropriate choices.
Q: What is the cancellation policy?
A: If you must cancel your registration, please send a written request to the conference registration office at registration@k-state.edu by June 30 to receive a refund less a $20 processing fee. We will be unable to issue any refunds after this date since we will have already incurred a majority of the costs for Grandparents University. As a self-funded program, we cannot use public university dollars, and therefore refunds are not possible after the date noted above. Please consider this carefully when registering. Fees will not be canceled for registered participants who do not attend and have not notified our office by the cancellation deadline.
Q: If something unexpected happens after the cancellation date and I'm unable to attend, why can't I get a refund?
A: This program is self-funded so as not to take away from the limited resources needed to educate KSU students and much of the costs associated with this event are incurred prior to this event. Also, it would not be fair to the families on the waiting list or who could not register because the event was sold out.
Q: Can I send a substitute person in my place?
A: Substitutions are allowed only if the substitute completes all the necessary forms, returns them to us completed and signed, AND the substitute matches the demographic of the person being substituted (an adult for an adult or a child for a child).
---
What do I need to bring?
Haymaker Hall provides a bath towel, hand towel, washcloth, plastic drinking cup, sheets, blankets, pillows, and pillowcase. Extra blankets, pillows, and complimentary soap are available at the residence hall front desk. Wireless Internet access is available in the dorm as well as other places on campus.
Packing List:
Fan(s)
Alarm clock
Extension cord
Night light
Change for the vending machine (for late-night snacks or drinks)
Coffee Maker (if you are an early riser)
Sandals/shower shoes
Toiletries (tooth brush, toothpaste, soap, shampoo, brush/comb)
Comfortable walking shoes
Rain jacket & umbrella
Notebook
Pens & pencils
Camera
Sunglasses
Sunblock
Swimsuit
Activities (books, games, cards, etc.)
Bicycle (chain, padlock & bike helmet)
---
Registration includes:
Sunday dinner
Monday breakfast, lunch, dinner, and Call Hall ice cream
Tuesday brunch
All tours and activities
A free game and pair of shoes for bowling
A free pass to the Natatorium pool
One suite for two nights in Haymaker Hall
A t-shirt, bag, and memories to last a lifetime!
2015 Grandparents University Staff