College Exemplary Awards

Dan and Cheryl Yunk Award for Excellence in Educational Administration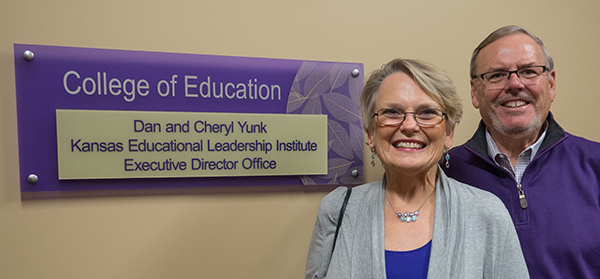 The Dan and Cheryl Yunk Award for Excellence in Educational Administration recognizes the importance of school administrators in establishing environments that promote student learning. The award is named in honor of Dan and Cheryl Yunk, exemplary teachers and administrators throughout their careers in the Manhattan-Ogden school system. The purpose of this award is to advance public recognition and recruitment for graduate programs in Educational Leadership at Kansas State University by honoring an individual who has demonstrated exemplary leadership in providing or promoting the administration of P-12 schools in Kansas.
2023 Award Recipient:Marvin Wade, Superintendent, USD 383 Manhattan-Ogden
2022 Award Recipient:
Brian Jordan, Executive Director, Kansas Association of School Boards
2019 Award Recipient:
David C. Thompson, Professor, Educational Leadership, Elvon G. Skeen Endowed Chair in Education, and Distinguished Research Fellow NEFA
Distinguished Cooperating Teacher Award
The Distinguished Cooperating Teacher Award is bestowed every year by the Student Affairs Committee. This award is given for meritorious service to the profession in Elementary (K-6), Middle School (5-8), or High School (9-12) classrooms. The winner is honored at the fall Education Symposium.
2022 Award Recipient:
Alex Brown, Manhattan High School, USD 383, Manhattan-Ogden Public Schools
2021 Award Recipient:
Lindsey Dewell, Woodlawn Elementary School, USD 233, Olathe Public Schools
2020 Award Recipient:
Patrick Hancock, Junction City High School, USD #475 Geary County Public Schools